Bracelet Luna
Rose Ispahan
90 €
Couleurs punchy et imprimé graphique, le bracelet Luna apportera du peps à vos tenues.
Bracelet incontournable de nos collections
Bracelet aux duos de couleurs plus élégants les uns que les autres
Bracelet où le laiton doré, trempé dans un bain d'or, et la laque colorée, sont réunis pour créer une sublime harmonie
A jouer, sans modération, en accumulation pour sublimer vos poignets
Bracelet fermé de 2 cm de largeur trempé dans un bain d'or
Disponible en 2 tailles, se ferme à l'aide d'un fermoir
Diamètre du bracelet en T1 : 5,7 cm
Diamètre du bracelet en T2 : 6,2 cm
Pour la plus belle des parures, optez également pour les boucles d'oreilles Céleste rose ispahan & le Jonc lily rose ispahan.
Nos bracelets sont proposés dans un joli pochon et emballés dans un petit paquet kraft signé bangle up
Livraison offerte en France dès 80€ d'achat
Retours gratuits en France pendant 30 jours à réception de votre commande
 En savoir plus sur nos conditions de livraisons et les retours 
Besoin d'aide pour bien choisir votre bangle ? 

Suivez le guide
Don't forget to select your size!
bangle up's quality
All our bracelets are made from brass that has been dipped in gold.
The colour is applied using enamel. Our bracelets are brushed, varnished and polished before the inside is engraved.
Our bracelets are tested and inspected before being sold. They do not tarnish and do not contain any allergenic substances.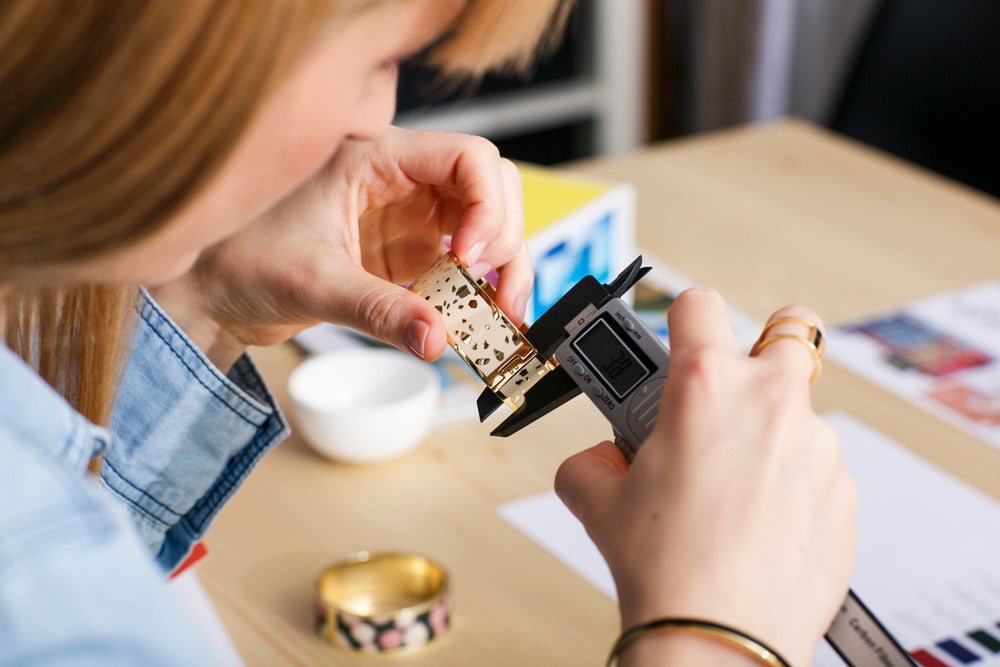 Taking care of your bangles
bangle up's jewellery pieces are true treasures designed to be worn and admired. They represent a connection, a bond that is yours to keep and that you want to last as long as possible.
To ensure it does, here are a few tips for taking the best possible care of your jewellery.
Your bangles don't like :
· Like cats, they hate water!
· They also dislike household cleaning products and would appreciate being removed when you're washing the dishes.
· They would rather you put your perfume on before them; they never like to wear your perfume too.
· They also like to be removed while you are gardening or exercising.
Your bangles like:
· Your bangles like to keep things simple; when cleaning them, just use a soft dry cloth with no soap or solvents.
· They feel best when safely tucked away, so keep them in their individual pouch once removed.
· As they are on the sensitive side, they like to be stored in their own pouch, particularly if you're travelling, rather than be mixed in with your other jewellery.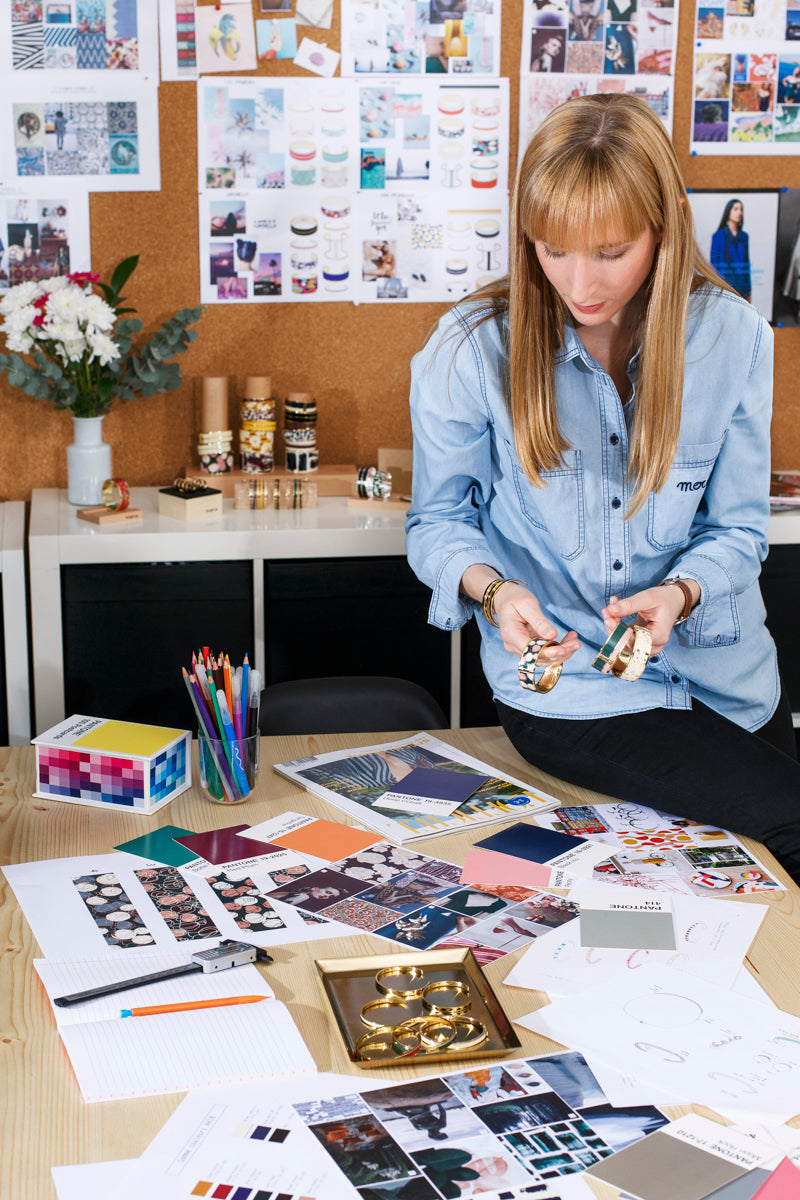 Our packaging
When you place an order, our jewellery is slipped into one of bangle up's elegant saffron yellow drawstring pouches, which are in turn placed into pretty kraft paper bags to great effect.
For your most precious tokens of affection and bangle up gifts, you can also select our beautiful gift box for an additional €3.
This box is available to add on all our bangle pages. Remember to select it before confirming your order.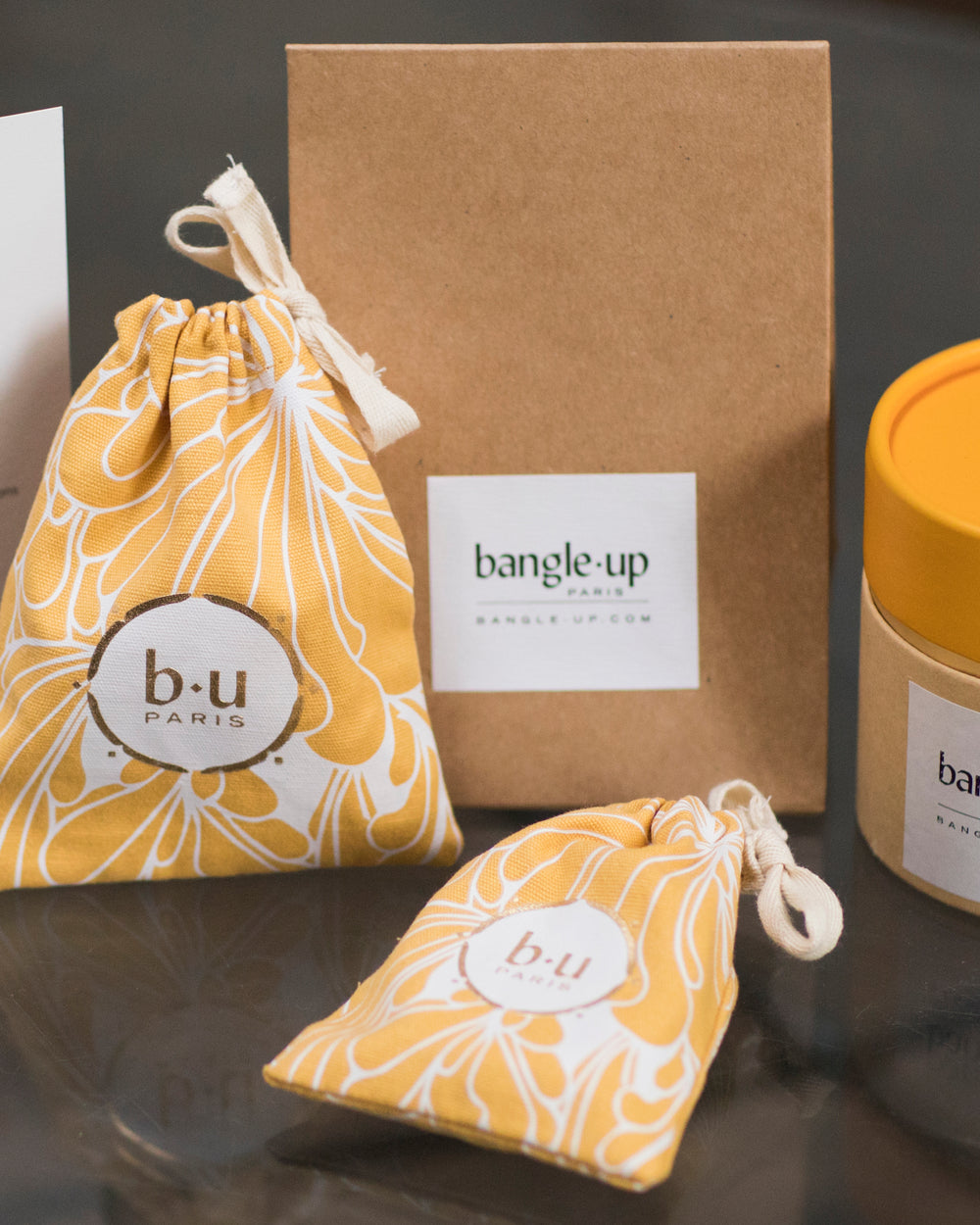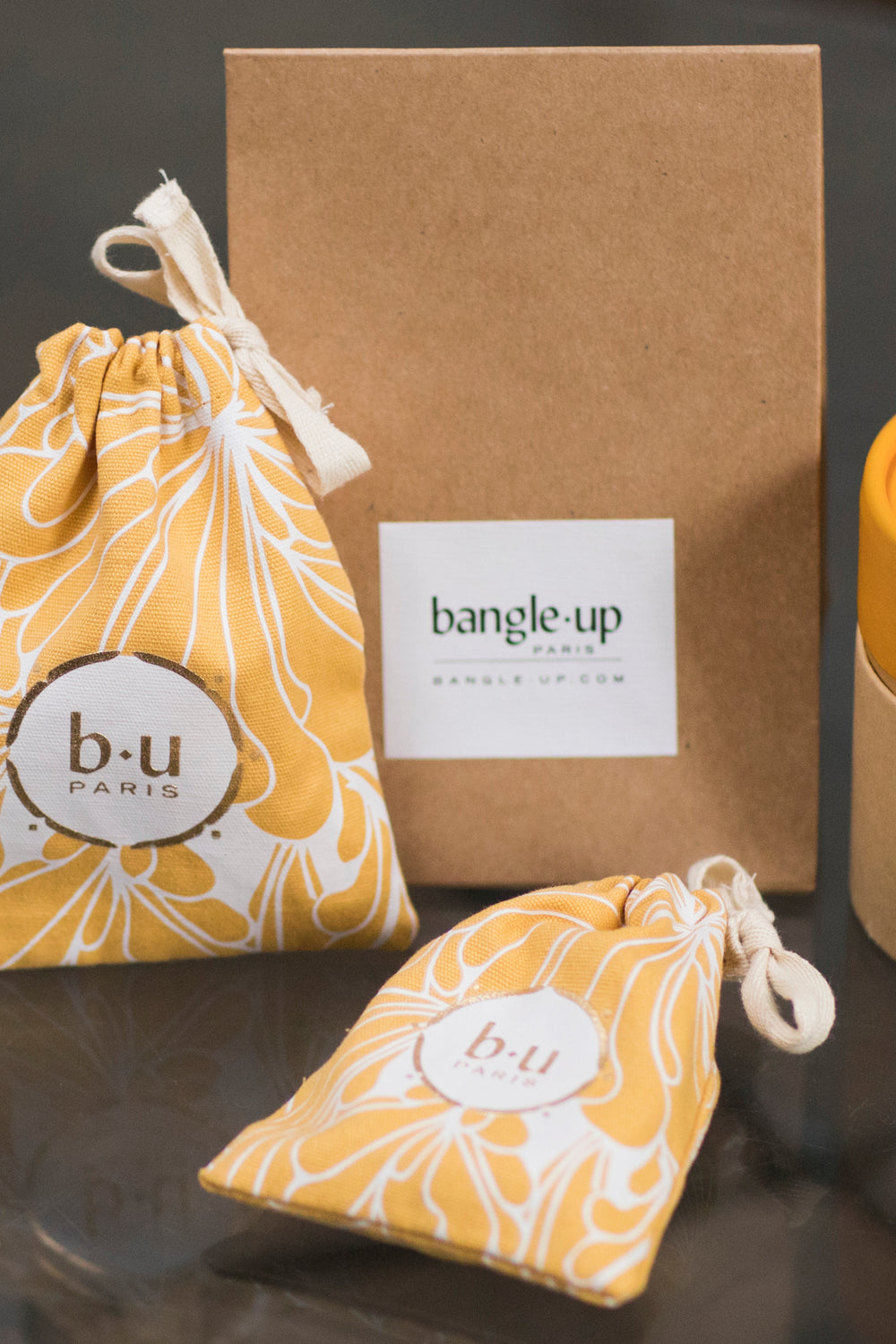 Size guide of our bracelets
Does your wrist circumference measure between 14 and 16 cm?
Choose the Size1
Does your wrist circumference measure between 16 and 18 cm?
Choose theSize2
Our bracelets offered in one size correspond to a T1.
How to measure your wrist circumference?
Get a flexible thread and a ruler. Go around your wrist with this thread, cut it when you have made a complete turn of your wrist. Then measure it
If in doubt, write to us at
mail@bangle-up.com