BANGLE UP JEWELLERY
Our bangles are created with the heart and soul in Paris 
Fine gold-finished, lacquered, decorated, engraved, plain-coloured or printed, our pieces showcase high quality craftsmanship, but are always affordable 
know more
MIX AND MATCH!
Vibrant and sensual, discreet and daring, urban and sunny, sober and refined, contemporary and timeless, our "bangles" subtly cultivate the harmony of opposites.

More than a style, Bangle-Up is a mode of expression!
DISCOVER
@BANGLEUPPARIS
Follow our adventures on Instagram, so you don't miss out on any news
Find out more
THEY TRUSTED US
Do not be surprised; When you place an order with bangle up we always ask you to give your opinion, that helps to give an idea of how you purchase experience went.
These are essential to us and allow us to always be able to give you the best sales experience possible.
Feel free to have a look at other customer experiences testimonials by clicking right below:
I access all reviews
Excellent experience 👌👌 From order to delivery
Good site and great responsiveness in terms of ordering and delivery.
Absolutely delighted, perfect delivery and on time as it was a gift 👌
Order received quickly Great bracelet as usual Never disappointed with bangle up I love all the collections Very pleased with my purchase
French makers of high-end fashion jewellery
Discover countless sources of inspiration, a wide range of timeless, elegant, colourful and very trendy jewellery for women, and understated and innovative design. An original world of quality fashion jewellery at affordable prices Welcome to bangle up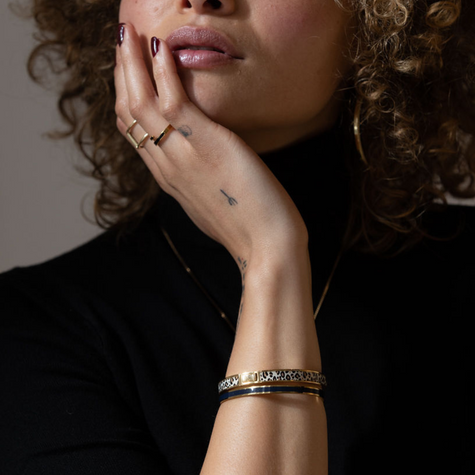 A refined and on-trend brand that is easy to wear
When making quality fashion jewellery, it is also important to think of the comfort of the women who will wear it. bangle up's cheerful team designs timeless and practical jewellery for women that also makes a straightforward and unique gift choice (discover the bangle up necklace and pendant). In our range of women's jewellery, you can find adjustable cuffs and rings, as well as clasp bracelets in two sizes – a detail that matters when you don't know the recipient's size. Our semi-open coloured bangles are available in two different widths to best go with whatever outfit you choose. If you are a fan of quality earrings, you will love our sets formed of a coloured stud and a golden arc that prettily adorns the earlobe. Wear them separately or together. Prepare to also be amazed by bangle up's pendants with a reversible gold-finished and lacquered medallion. You can wear them on a chain or a cord and add variety by combining them in four different ways. Our quality fashion jewellery for women lends itself perfectly to the current trends. Stacked bracelets, bangles, cuffs, rings and pendants are really fashionable right now. Get the trend right by exploring our collections and letting your creative flair decide. Create your own timeless, original and vibrant style. Be bangle up!
Artisanal know-how for a wide choice of quality jewellery
We make original, timeless and affordable jewellery without ever compromising on quality. Our fairly priced high-end fashion jewellery is distinguished by its know-how. Our innovative design results in original and colourful jewellery. All of bangle up's jewellery for women is dipped in gold. Then, once it has been adorned with delicate lacquer, coloured and printed, it is fired and varnished to keep its shine long-term. A list of procedures is developed for each jewellery piece to ensure the materials and colours remain consistent. Our community of bangle lovers truly appreciates the care with which we select our materials and colour combinations and produce our jewellery.
A wide range of inspirations
Our jewellery for women owes its success to its timelessness, originality, quality and positive impact. bangle up's graphic, ethnic and colourful prints draw on a vast variety of influences from across the globe. We find the inspiration for each piece in a street corner, an art gallery, a stroll through the forest, a fashion show, or a trip to the tropics. Whenever our happy family experience wonder or excitement, they bring new ideas of their own accord to our Parisian offices and workshops, where every necklace, bracelet, ring or other creation is meticulously designed to enhance women every day. Our passionate and engaging conversations prompt us to create jewellery with a timeless design and to fine-tune our colour palettes and exclusive graphic motifs. Our evocatively named fashion jewellery collections are designed to make you shine in both summer and winter. Every set can be worn to suit your mood and offers total freedom. A delicate bangle is enough to brighten your day. A green bracelet calls to mind faraway white sandy beaches. We draw inspiration from everything – the beauty of nature, ethnic art, architecture, trends, design, travel and more – to design elegant high-end fashion jewellery that will put a smile on your face and help you escape to another world.
A creative identity and a unique signature
Helping you to look at life through rose-tinted glasses. Brightening up the day-to-day life of every woman through elegance and imagination. bangle up's jewellery and its colourful accents take you on a journey and transport you to another world. That is bangle up's reason for being. To achieve this, our team draw on an endless stream of ideas and new pieces. Teaming with curiosity and creative energy, they design one-of-a-kind quality fashion jewellery to tempt and intrigue you. Our jewellery for women has a strong personality. Our collection of original and timeless designer jewellery suits every occasion and makes a fantastic personalized gift or simply a little treat for yourself. Colour reigns supreme at bangle up, as does the quality of our high-end fashion jewellery. Bracelets, cuffs, bangles, earrings, rings and necklaces with heart pendants come in a broad spectrum of models and colours, each more appealing than the last. bangle up owes its unique signature to a list of high-quality materials including lacquer and brass, and the clean design, original graphic style and colourful prints of our gold-dipped quality fashion jewellery. Not forgetting our endless stream of new collections and capsules at fair and affordable prices. Is your style subtle and understated? Discover our collections of bangle up earrings and necklaces. We work passionately to offer you trendy and affordable jewellery sets that look spectacular and can be worn to suit your mood and the occasion.