Gabriel Pendant Necklace
Sand White
80 €
Heads or tails?
Four ways to wear our Gabriel pendant necklace!
Inspired by old-fashioned pocket watches and our bangle up logo, the Gabriel pendant necklace will brighten up your neck with a touch of radiance.
With its pivot system, one gold-finished side and one coloured lacquer side (midnight blue or sand white), the choice between a gold-finished brass chain or a waxed cotton cord, the Gabriel pendant necklace plays along with your style and tastes!The choice is yours!
The Gabriel pendant necklace will look stunning paired with the Céleste pendant necklace and our sand white Comète earrings.
Medallion with reversible pivot system in coloured lacquer, immersed in gold
Medallion diameter: 22 mm
Adjustable chain in 0.5 micron goldplating
Maximum chain length: 45 cm Minimum chain length: 42 cm
Adjustable cord with sliding knots in black waxed cotton
Cord thickness: 1.2 mm
Maximum necklace neck circumference (cord): 75 cm
Our necklaces come in a pretty drawstring bag wrapped in a little brown paper bangle up package
Maximum necklace neck circumference (cord): 75 cm
Our necklaces come in a pretty drawstring bag wrapped in a little brown paper bangle up package
Free delivery to France when you spend €80 or more
Free returns within France for 30 days following receipt of your order
Learn more about our terms and conditions for deliveries and returns Need some help choosing the right bangle?

Use our guide
Don't forget to select your size!
bangle up's quality
All our bracelets are made from brass that has been dipped in gold.
The colour is applied using enamel. Our bracelets are brushed, varnished and polished before the inside is engraved.
Our bracelets are tested and inspected before being sold. They do not tarnish and do not contain any allergenic substances.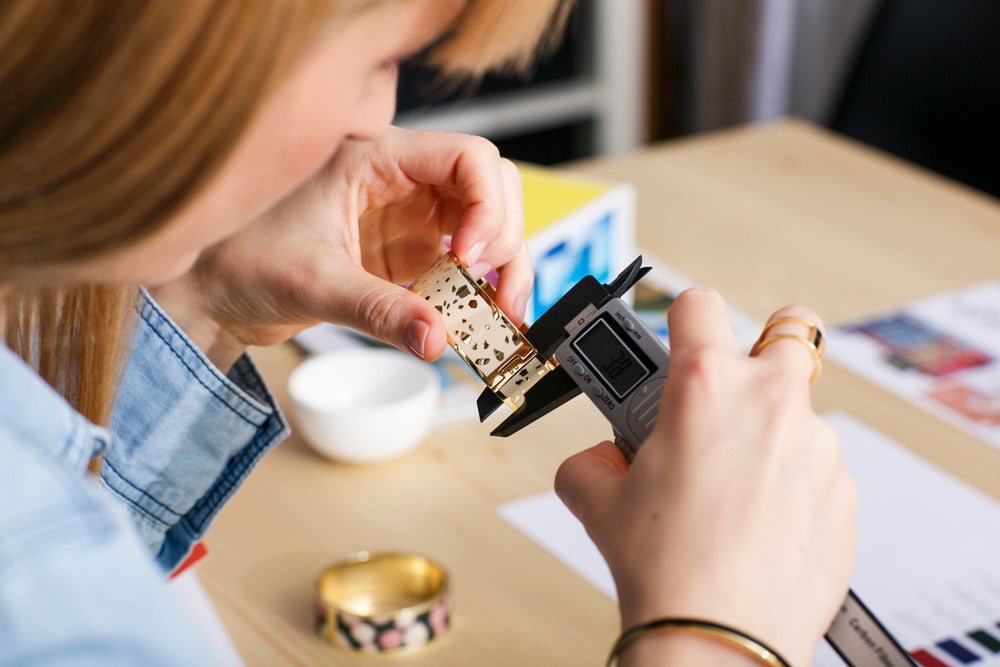 Taking care of your bangles
bangle up's jewellery pieces are true treasures designed to be worn and admired. They represent a connection, a bond that is yours to keep and that you want to last as long as possible.
To ensure it does, here are a few tips for taking the best possible care of your jewellery.
Your bangles don't like :
· Like cats, they hate water!
· They also dislike household cleaning products and would appreciate being removed when you're washing the dishes.
· They would rather you put your perfume on before them; they never like to wear your perfume too.
· They also like to be removed while you are gardening or exercising.
Your bangles like:
· Your bangles like to keep things simple; when cleaning them, just use a soft dry cloth with no soap or solvents.
· They feel best when safely tucked away, so keep them in their individual pouch once removed.
· As they are on the sensitive side, they like to be stored in their own pouch, particularly if you're travelling, rather than be mixed in with your other jewellery.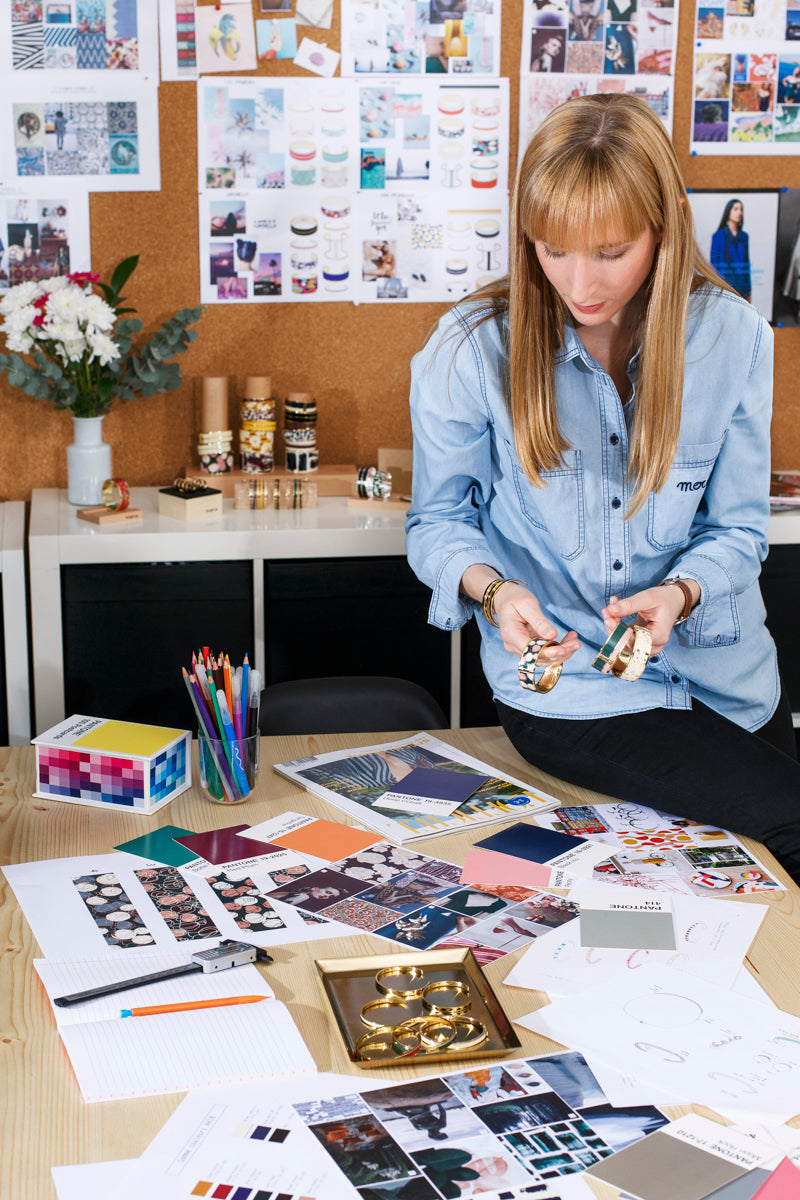 Our packaging
When you place an order, our jewellery is slipped into one of bangle up's elegant saffron yellow drawstring pouches, which are in turn placed into pretty kraft paper bags to great effect.
For your most precious tokens of affection and bangle up gifts, you can also select our beautiful gift box for an additional €3.
This box is available to add on all our bangle pages. Remember to select it before confirming your order.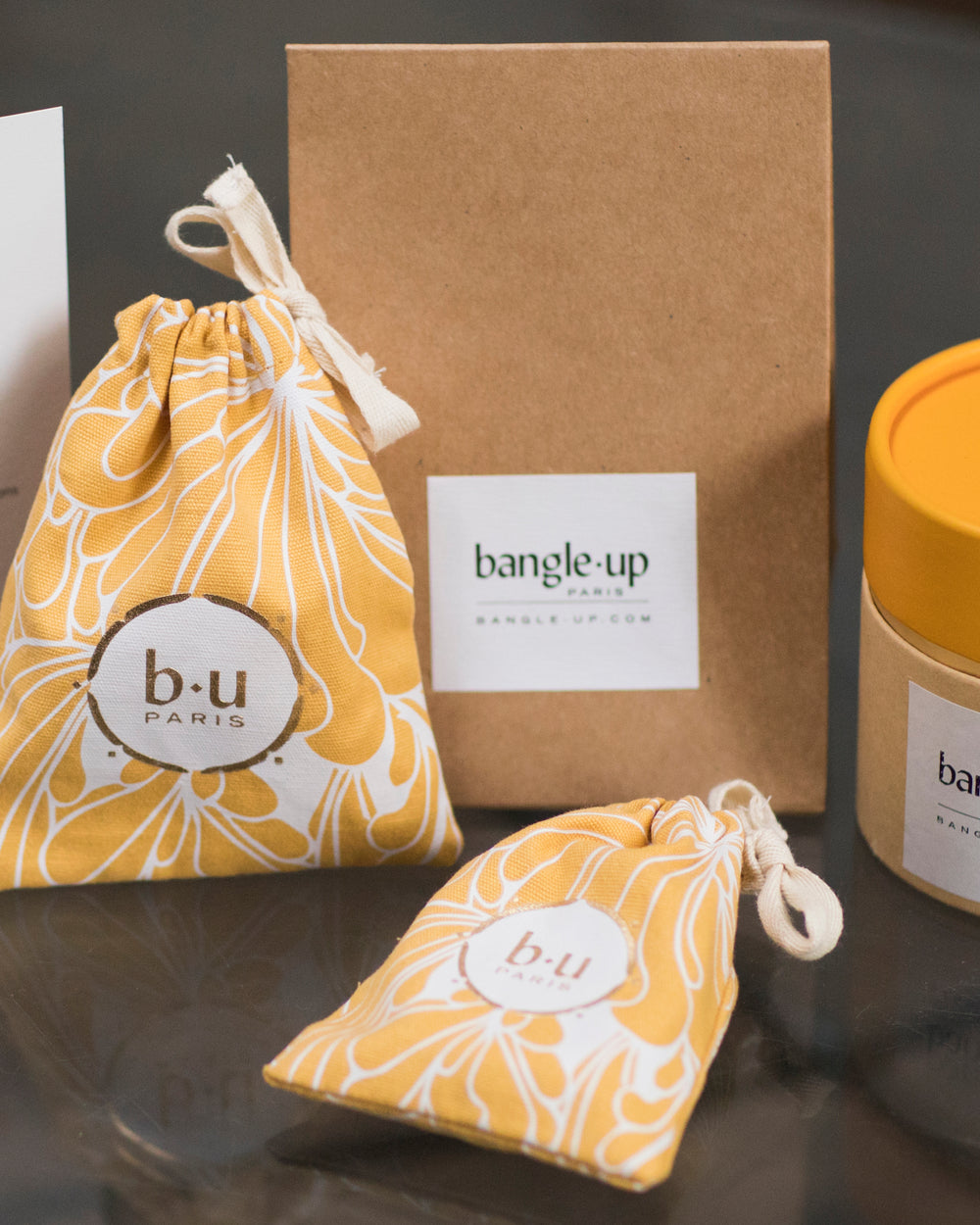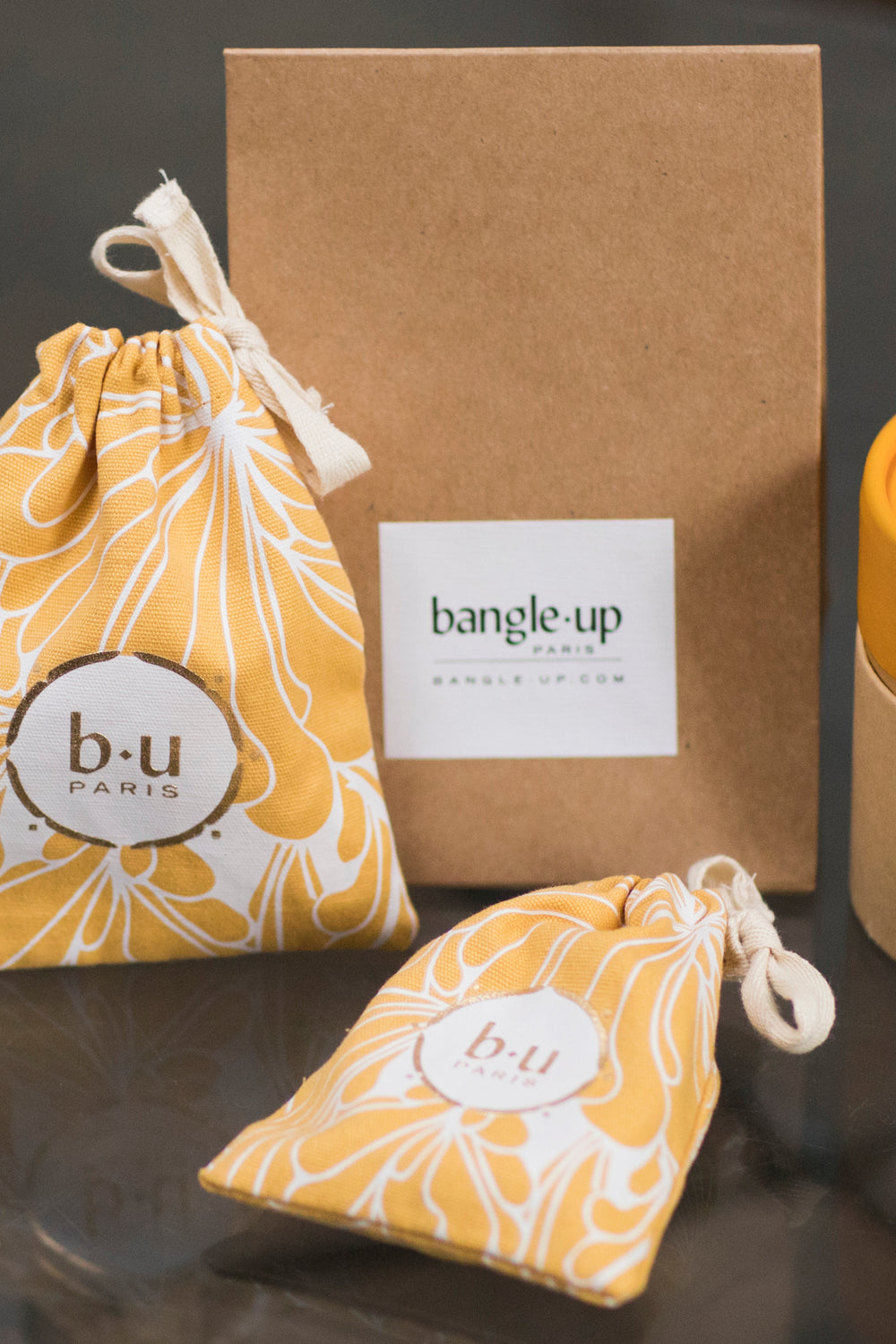 Size guide of our bracelets
Does your wrist circumference measure between 14 and 16 cm?
Choose the Size1
Does your wrist circumference measure between 16 and 18 cm?
Choose theSize2
Our bracelets offered in one size correspond to a T1.
How to measure your wrist circumference?
Get a flexible thread and a ruler. Go around your wrist with this thread, cut it when you have made a complete turn of your wrist. Then measure it
If in doubt, write to us at
mail@bangle-up.com